There has been a lot of speculation for a few years now that Jeep would be releasing another truck. If we look at previous models Jeep has had 3 compact pickups and 1 full size.
The CJ-8 Scrambler was introduced in 1981 and manufactured through 1986.
The Comanche is probably the best known Jeep truck and it was manufactured from 1984-1996.
The CJ-10 was produced from 1981-1985, and it was designed and sold for export markets. Australia in particular.
The Gladiator has been the only full size truck in the Jeep lineup. It was first introduced in 1962 for the 1963 model year and was produced right up until 1988. After 1971 however the Gladiator name was dropped and the truck was simply known as the Jeep pickup.
All of these Trucks were released in the pre-Chrysler era of the Jeep brand. My guess is that since the Chrysler brand, or Fiat Chrysler Automotives, has made such huge strides in the Ramtrucks brand that a modern day Jeep Truck will be a marriage of Jeep and Ram. Jeep in design with Ram components under the hood.
We can assume that the design of the 2018 Jeep truck will be similar to something that we have already seen. FCA has released its own concept in the past, followed up by the JK-8 truck conversion kit released by Mopar and in the aftermarket world we know that American Expedition Vehicles has been converting Wranglers to trucks for many years now.
The Jeep Gladiator Concept seems to be the most popular model for speculation as to what the 2018 model will look like.
Its very similar to the JK-8 kit that Mopar released.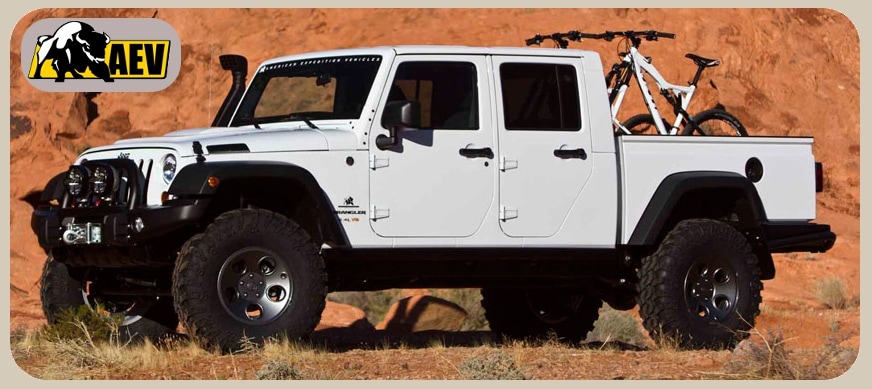 You can also see some similarities to the AEV Brute conversion kit. We do know that Mopar and AEV have been working very closely together on Jeep accessories and now Ram accessories.
As far as rumors right out of FCA, what we currently know is that the Truck will only come in a 2-door model, and the length the truck will be the same length as a 4-door model. This is to avoid a major factory refit and to maintain production rates. They are expecting it to be about the size of a Ford Ranger in length, but a little wider- with the passenger room of today's 2-door wrangler, and narrower mirrors and fender flares.
For the time being though this is all speculation and as more specs and details get released we will keep you in the loop!
Happy Jeeping!!!